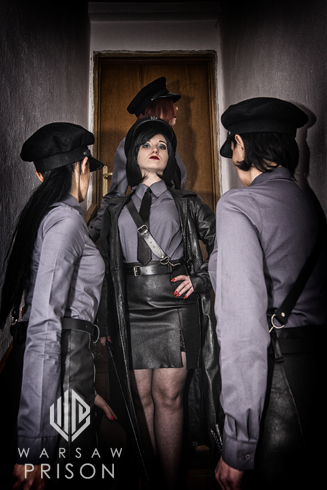 news archive
new gear in my prison

20 October 2018
I got some new quality gear:
isolation hood from Fetters
Sultry Sub No. 4 for MyStim Cluster Buster
cattle prod Master Series "Elektro Shank"
penis massager Man.Wand
new photo sessions


15 August 2018
I present the effects of three photo sessions that we've just done.

The first session is the presentation of our new military style. The second session is a session showing latex Ladies, and the third leather Ladies.

A new Officer of Warsaw Prison - Officer Meghan took part in photo shoots.

All photos can be found in the "pictures" section, as well as on the website tabs.
new officer



15 August 2018
Officer Meghan joined our team. Sessions with us she runs from December last year, but now I officially present her figure.

In the "crew" section you can read about her, and in the "pictures" section find her photos.

Cooperation with her and sessions with her participation is a pure pleasure!
new prison program


10 July 2018
I created a new prison program - no. 6 - regular prison stay. It is dedicated to people who want to experience a stay very similar to staying in a real prison. The focus here is not on the classic BDSM practices, but here it will be forced labor, inspections in the cell, constant control and spending time in isolation.

In the "stay schedule" tab, I made changes. Now you can take a look at an example of a plan for each of the prison program and imagine how it will look your stay in Warsaw Prison. Of course this is just an example of a plan whose elements can vary depending on personal preferences.
new gear in my prison

1 July 2018
This month I bought a very interesting gear for the prison and it is worth writing a few words more about it.

It is a MyStim - Cluster Buster. It enables wireless control of toys intended for electrostimulation. It has 12 programs, including a function that allows you to set the duration of each program and its intensity. However, this is not all.

The main feature that distinguishes this power box from other such devices is that it can simultaneously handle up to 8 electrodes! To the power box we need to buy extra receivers (MyStim - Sultry Sub) and they are connected directly to the electrode. At the moment, the studio is equipped with 3 such receivers, but I will gradually increase the number of these receivers to finally have all.
may in the photo gallery from the session


27 May 2018
It was a very intense month. However, not only the number of sessions can be enjoyed, but also the fact that you so willingly agree to take photos during meetings, sometimes you also ask me to take pictures of you during torture.

Thanks to that, in the gallery this month we will find 138 photos! The gallery is very diverse. Of course, a mass of typical tortures (CBT, nipple torture, playing with anus, beating), but with the use of non-standard accessories, such as nettle, toothpaste, tabasco sauce and lemon juice used on rubbed places after previous torture by wiping the skin with sandpaper or pumice. This month I also took care of the appearance of my toys and they were depilated with wax - it hurts, but the effect was satisfying.

May certainly be written in my memory, as a hard-working, but above all extremely interesting month. I hope that the next one will be no less interesting than this one.