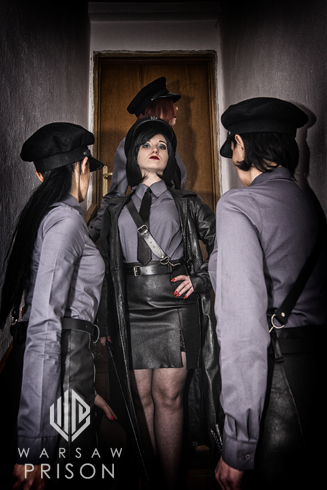 news archive
new device - gantry


9 November
A new device has been added to the prison. It is a gantry for suspending slaves. Room no. 4 in which it is located is enough high, so it is easy to hang up in any position at a maximum height of 3 meters.

The gantry is the most complicated device, that was created for the prison. It moves in two planes. Not just standard: top-down but also right-left. This gives tremendous possibilities and will definitely offer for suspended slaves interesting experience.

In section pictures you can find out how the gantry looks like.
new gear in my prison



6 November 2017
My prison is now equipped with heavy steel adjustable restraints. They will be very useful in constructing new stressful bondage positions, as well as in addition to basic bondage as well as elmenent of strict bondage. Thanks to them I got a lot of new possibilities to immobilize slaves, and also to make sessions even more interesting.

In section pictures there are pics showing the restraints and sample positions that can be achieved by them.
new gallery


18 October 2017
On my website is a new tab "Session pics". I will put there photos from the session, that I took during each month. This tab will be updated often, so it is worth to check there regularly.

Photos in the new gallery have been placed with the consent of the people who are on them. If you would like to be in my gallery, you must agree it in questionnaire, which you will find in my online booking system.
new photos



16 october 2016
On the occasion of Kinky Party vol. VIII I made a short photo session before going to the party. If you want to see me in mega sexy latex catsuit from LatexShop look at the gallery.
new gear in my prison

14 October 2017
I got some new quality gear:
nipple clamps
spider gag
butt plug Oxballs Rosebud 1 size S
new gear in my prison

5 October 2017
I got some new quality gear:
Fun Factory Cobra Libre II - the penis massager