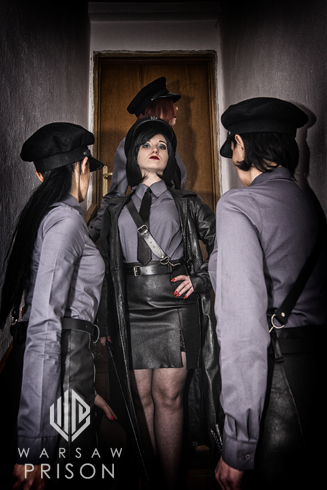 news archive
new gear in my prison

18 November 2019
I got some new quality gear:
chastity belt Fantasy C-Ringz
cattle prod The Stinger
MyStim ball squeezer for Pubic Enemy
metal cuffs for wrists
heavy metal cuffs for ankles
steel bondage mitts
steel helmet
restraint for arms
ball gag with head harness
candles for play with hot wax
very successful month


10 August 2019
July and the beginning of August were very intense months! I am glad that you like to visit me so much and that you like to be photographed during the sessions. As a result, we have 277 photos from July and 112 from August in the gallery!

In addition to fantastic sessions, this month I also had great Guests!

In mid-July Lady Nederland visited me. I spent an interesting and intense day with her talking and playing with our slaves. You can see photos from this meeting here.

In the second part of the month and at the beginning of August, the wonderful Mistress April, who came to Poland from South Africa, visited me! We did 3 long sessions together in my studio, which will definitely be remembered by those who were under our control. You can view photos from these sessions here.

In addition, in August I was also visited by the beautiful Black Amanda, with whom I spent a fantastic afternoon relaxing after a month of intensive work.

I hope that the following months will bring the same or more, so inspiring meetings and so many interesting sessions.
interesting interview


24 July 2019
I have something interesting for you - an interview with a person who spent 4 days in my prison.

He previously wrote on his blog here about the session with me.

Now, known blogger Lady Sas, asked him about stay in my prison, about his impressions and thoughts.

It's definitely worth reading! The interview is here.
two new furniture



19 July 2019
I am proud to present two new furniture that was created by my workshop for prison.

The first furniture is the Black Box. It is a horizontal cell for keeping there our prisoners. It prevents you from being in a standing position. You can lie in it, sit curled up, or kneel down. It is also a place where you can sleep. A completely black box that does not allow you to control the passage of time and to assess whether it is day or night. Extremely useful for isolation as well as all kinds of mind games.

The second piece of furniture is Extreme Box. It's really 2 in 1. In the chest there is a box for bondage, which is used for very strong immobilization and isolation. In this furniture the head and body are separately. The furniture has exchangeable boxes for the head. At the moment there are two: one black, the other transparent. Bondage box is a piece of furniture on wheels, which slides into the box. It can be used as a bondage bed, bondage box, isolation box. This is definitely a unique and unusual device.

The furniture has been photographed and the effects of the photo session can be seen here:
1) Black Box - pictures.
2) Extreme Box - pictures.
warsaw femdom party


7 July 2019
On 9 November, at the Skandal Club in Warsaw, there will be a party that you can not miss! This will be a FemDom celebration in the truest sense of the word. Never before in our country has there been an event dedicated to Female domination organized on such a scale.

Everyone who wants to meet Dommes from our country and from abroad, should already plan their arrival, buy tickets and get ready to serve the Ladies during this wonderful evening.

What can you expect? An elegant club, well-equipped playroom, slave market, shows and private sessions with Dommes, as well as catering and an open bar in the price of a ticket.

More information can be found on the website of the event here.

I am honored to be the Ambassador of Warsaw FemDom Party, so I encourage you to participate. Remember, there was no such event yet. You must be there!
may in the photo gallery from the session


4 June 2019
I thought that nothing would beat last year's May, which was the most intense month during the entire prison activity. And here is such a surprise! A year has passed, May came and pure madness again! I am glad that you visit Warsaw Prison so willingly and that you like to have photos taken during your stays. Thanks to this, I placed 221 photos from this month in the gallery!

It's hard to believe that in one month you can do so much and that's how much it can happen. But it's true! Various tortures, isolation, a lot of different bondage positions, and anal, electro plus, of course, humiliation.

I spent many long days with my prisoners who came especially to visit me from all over Europe and the USA. Together with the Officers, but also independently, I interrogated them, extorted their testimony and, above all, I showed them the painful consequences of bad behavior. I hope we have managed to improve the behavior of more than one naughty boy.

I wish myself the same ones, or even better, months full of positive impressions and interesting experiences.

And I encourage you to watch the pictures that are here.
flying from north america?
You can easily get directly from Toronto, Chicago, New York and Los Angeles in 8-12h for 500$ both ways!


tips on flying from ca and usa
new room is here!
Finally, a long awaited room is ready - 30 sqm and 3,7 m height space. It offers a very uniqe speciality - vertical suspension! You can see how it looks in pictures.
new recomendation
I recently begin to cooparate with the StraitJacket Shop. The range of accessories for bondage is wide (e.g. masks, armbinders, strait jackets), and quality is high. I strongly recommend shopping in this store.