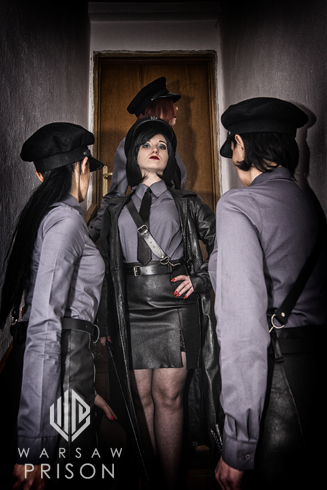 news archive
5th anniversary



9 December 2020
December is an important month in my calendar. It was this month, five years ago, that I opened my prison. When I compare what was then and what is now ... I created exactly the place I wanted. And the recent years have resulted not only in many sessions, meeting new, interesting people, but also producing in our own workshop, unique on a global scale, BDSM furniture.

It is unbelievable how fast time flies. Five years of hard work, realizing your own dreams and passions. A great time, although the last year would be better left untouched ... Due to the pandemic, I did not implement all my plans, I did not achieve as much as I wanted. A strange, difficult time that none of us expected.

This time, fate presented me with other challenges. It was not development, but survival. Keeping alive the place where we put our whole heart into creation, not only myself, but also the people who work with me. We succeeded, although it was not easy. Thanks to your help and donations that were financial support for the prison during the lockdown, I stayed afloat. Warsaw Prison is still running and doing well.

The last months have shown me that you feel attached to this place, that you not only want to come to my sessions, but also - when needed - you are able to rise to the occasion and help completely selflessly. It is a very touching and valuable lesson for me. You have shown that you can be counted on in difficult situations.

So this post will not be a summary of my achievements, as I always used to do, but a thank you to you. Thank you for the support and help I have received from you. And I hope that the next year will be better, more fruitful for all of us, and that we will all be able to implement our plans without restrictions. This is what I wish for myself and for you.

However, to follow the tradition, I made a birthday photo session, the effects of which can be seen the gallery.
interview with me


17 November 2020
I recently had the opportunity to give an interview on the blog of BDSM, which is run by one of my prisoners.

For several days, the interview is available on the Internet.

If you want to read what I have to say, what are my thoughts, you will find everything here.
48 h prison event

25 October 2020
In July this year, I had the pleasure to take part in an event organized by the wonderful Madame Charlotte and Frau T in Grossenhaim, Germany.

The event took place in a real prison building, and for 48 hours we were "cared for" by several prisoners.

As the Warden of Warsaw Prison, I treated it as an adventure, but also a place where I can learn a lot. These 48 hours gave me many new experiences and fantastic emotions.

I am grateful for the invitation and for the opportunity to participate in such an event.

Pictures from this event can be viewed here.
new gear in my prison

4 October 2020
I got some new quality gear:
parachute with spikes for balls
anal hook with ring for balls
two large paddles
one small paddle
two rattan cane
three rubber cane

It's very nice to receive such gifts.
session with lady lia

4 October 2020
As you know, two Ladies mean double trouble. And when we add two sadists and two submissives to that, the party is getting started!

In August this year, I had the pleasure of hosting Domina from Germany - Lady Lia, who visited me with her two slaves.

We spent a wonderful 48 hours in my prison, playing with our submissives who repeatedly asked for mercy. But as you know, the word "mercy" is rarely found in the Domina's dictionary...

The photo gallery from this long and interesting session has just been created and you can see it here.
new pictures

16 August 2020
I just added new photos from the sessions, which I realized in June and July.

You can see them here.
flying from north america?
You can easily get directly from Toronto, Chicago, New York and Los Angeles in 8-12h for 500$ both ways!


tips on flying from ca and usa
new room is here!
Finally, a long awaited room is ready - 30 sqm and 3,7 m height space. It offers a very uniqe speciality - vertical suspension! You can see how it looks in pictures.
new recomendation
I recently begin to cooparate with the StraitJacket Shop. The range of accessories for bondage is wide (e.g. masks, armbinders, strait jackets), and quality is high. I strongly recommend shopping in this store.