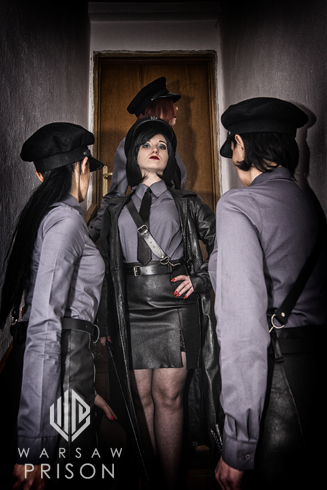 news archive
gifts for my prison

14 March 2019
I received gifts from my slave:
2 x butt plug
one big dildo with suction cup
2 x strap-on

I also bought:
2 x stretch film various colors
colorful bondage tapes
8 special candles to use for use in playing with hot wax
officers on fetlife


6 March 2019
Officers of Warsaw Prison have accounts on FetLife. If you want to follow their activity on the Internet, check their profiles, add them to friend list and check regularly what they will add, what they will write and what they like.

Officer Ana - her account here
Officer Liza - her account here
Officer Meghan - her account here

new gear in my prison

6 March 2019
I got some new quality gear:
two small dildos for strapon
head harness with ball gag
nipple clamps
bondage tapes
stretch film various colors
stretch film various sizes
3nd anniversary



9 December 2018
It has been exact 3 years since I opened my Warsaw Prison project. During last one year a lot of things have changed. We have one new Officer - Officer Meghan, brand new prison program, many new accessories, but also interviews and articles about this place! We started be "famous" and we are so proud of that!

We are also very happy that you are so eager to visit us. We hope that another year will give us even more naughty boys to "repair".

And here is a little gift for you. Pictures from anniversary photo session in the gallery.
new gear in my prison

1 December 2018
I got some new quality gear:
leather cuffs for hands and legs
leather strap on
ball gag
head harness with ball gag
nipple clamps
Sultry Sub No. 5 for MyStim Cluster Buster
e-stim penis strap MyStim Heavenly Henry
penis massager Hot Octopuss Pulse III Solo
article about a stay at warsaw prison


20 October 2018
On the blog bdsaime you will find a detailed description of a 4-day stay in September this year in our prison.

This is an important and very interesting reading for anyone who wants to visit our place.