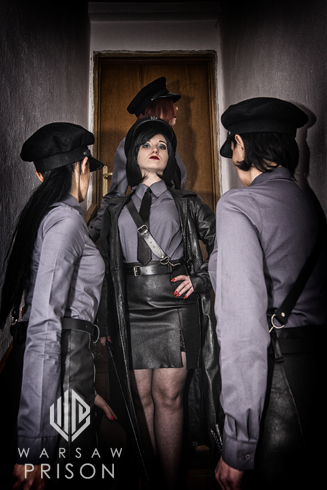 news archive
new photos available


7 November 2021
October is traditionally the most intense month in the studio. Every year it seems to me that there can be no more sessions, and yet I still manage to put even more slaves into my already tight schedule.

Since so many people visit me, it is not difficult to guess that all possible BDSM practices were implemented, as well as a little serving, forced labor, mind games and everything that is not seen, and what is happening in slave minds.

In addition to me, in over 200 photos, you will also see additional, sexy Ladies who supported me in the process of training, punishing and rewarding my submissives.

If you want to see the effects of our work, visit my website WP-LD PREMIUM.
new photos available


4 October 2021
September - the month of bondage. This is how I can summarize what has happened in the studio over the past weeks. I don't remember the last time there were so many sessions at the same time, the theme of which was immobilization. Ropes, leather belts, transport belts, chains, handcuffs, and using them to create both: comfortable and uncomfortable positions, plus suspending ... there was so much of them! Although paradoxically - quite passive, it was very intense for a person who has to tie it all up and then untie it. If you want to see the effects of my work, visit my website WP-LD PREMIUM.

You will find there 143 photos of me, and an additional Lady, as well as immobilized objects, although less sexy than their Owners.
new photos available


13 September 2021
August was not a very intense month for me, because I'm always on vacation then, but I realized several sessions. The photos you can find on my website WP-LD PREMIUM.

There are 91 photos, and you will see not only me, but also Domina who accompanies me, both in sexy outfits, performing tie and tease and torturing slaves.
new photos available


5 August 2021
Photos from the sessions that I realized in July, you can find on my new website WP-LD PREMIUM.

It was a very intense month during which I took 205 photos. You can see on them not only me, but also Ladies working with me in ultra-sexy clothes.
new photos available


8 June 2021
Photos from the sessions that I realized in May, you can find on my new website WP-LD PREMIUM.

The catalog contains 218 photos, including not only me and slaves, but also additional Dominas participating in the sessions. This month, we did a lot of sessions with submissives, and basically every possible BDSM practice. Buy and check how intense month it was.
new furniture



15 May 2021
With a great pleasure I finally present you my new piece of furniture in the studio. It is true that it has been with me for some time and the regular slaves had the opportunity to watch it live and test it, but now it has it's official premiere. And, of course, we're talking about a bondage table with the stretching rack!

This is another piece of furniture in my collection that can be said to be unique on a European scale.

What can you do with it? In addition to the classic strict bondage positions in the lying position, the furniture also gives us the ability to lift a person up and upright, thanks to the hydraulic actuators installed in it. It gives an unforgettable impression, not only of helplessness resulting from immobilization, but also excitement and surprise at the change of one's position.

The second functionality is the ability to stretch the slave based on the mechanics of a classic gear wheel. We attach the legs or arms to the mechanism and tighten the rope more and more, while pulling the limbs of the submissive to the maximum. In addition, at this point, we can also lift the furniture and put it vertically, which apart from the feeling of powerlessness caused by immobilization, also gives a feeling of quite comfortable hanging, because the back is supported.

The furniture has had its photo session, the effects of which you can see here.

For creating this complicated piece of furniture, special thanks go to the team of my workshop, who did a great job!