Warsaw Prison 2.0
Updates
You can see more details
WP 2.0 progress tracker
[1-05-2022] - New movie on our YT channel Before moving the equipment from WP
[19-04-2022] - You can check how our building looks like now on our Youtube Warsaw Prison
[17-04-2022] - Chogal added small progress tracker
[15-04-2022] - Company has been registred in court. We have our tax number !
[12-04-2022] - New updated drawing for our new prison
[07-04-2022] - Chogal has signed entity documents and send to registration court. We need 2-3 weeks to get an entry
[06-04-2022] - We have selected our buidling. It is a decent location! We will post layout drawings later.
Dear slaves, visitors and supporters,
You probably noticed that studio calendar is locked for next few months. There is a very important reason for that.
It is time to move to a new place
It is not just ordinary 'relocation' . It is new concept, in which everyone can participate as shareholder ! If you considered current WP as complicated project lets scale it 4 - 8 times.
So what is Warsaw Prison 2.0
In few words - it is a space for kinky fun anybody can rent. Around 650 sqm plus back office. Space themed as prison, 5 bedrooms, 8 prisons cells and 10 rooms filled with unique gear. Decent space for:
Kinky couples - both femdom and maledom
Proffesional Mistresses and their slaves
Hosting play events up to 16 attendants
Making kinky movies
Bit more complex explenation
Warsaw Prison is a place dedicated to the BDSM community members who are looking for high end and unique experience both as kinky and leisure. Place should follow rules and standards to be successful as a business and remindable experience for our guests.
Safe and discreet
Place should not be located in shared spaces ex. office buildings, shared storage buildings. It should have its own entrance and preferably be a stand-alone building without any neighbors nearby. Also, additional outdoor space, covered by trees could be a big plus for outdoor activities during the summer season.
Runed by other kinksters
Because we are somehow different than a vanila part of society, our place has to be run by other kinkster or kinkly friendly stuff. We want our guests to be fully accepted and welcomed.
Affordable
Although WP 2.0 is a commercial project, fees should be balanced to make it profitable yet should not be overpriced. It should be priced as a higher standard apartment or hotel room with high-level service ex. around 150-200-250 euro / room / day
High standard of hygiene and cleaness
This standard is most important as it directly affects both safety and general visitors' experience of using the facility. We need to provide the best solutions , tools, chemistry and machines that keep the facility clean and fresh. That also includes keeping bdsm gear sterile.
High standard of staff service
Staff should be fluent in English to provide general guidance for rules of facility and use of equipment. Most important staff should be responsible for providing cleaning and keep it at a high standard. Staff members should also have a B driving license to provide the transfer. Also making meals for visitors is part of our service.
Unique equipment and room themes
Facility should provide visitors with possibilities for various kink plays far more than offered by regular dungeons to rent. The design of equipment should be related to the main theme - the prison.
Location
Warsaw Prison 2.0 will be placed in a rented building. It is located in Warsaw , a bit north of old town, near Wisla river. It is decent location ! 30 mins by foot to old town, 10 mins by taxi to city center, around 20 mins by taxi to Chopin airport.
Building is 2 floor office building. 2 wings on each floor and central section with staircase. Building wasn't in use ofr last 2 years and requires some finishing works - repainting, floor . Of course for us it is good news as we need adjust space for our needs.
Here is our layout. Some changes may apply but in general this is it.
First floor: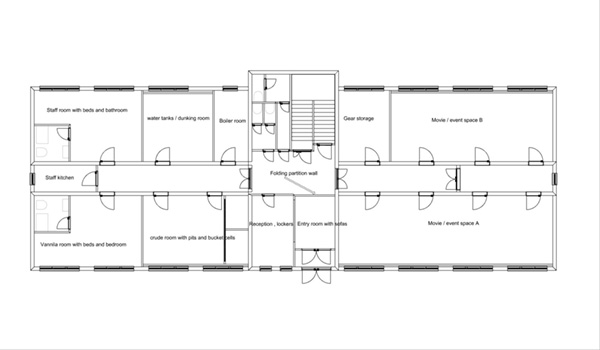 Second floor: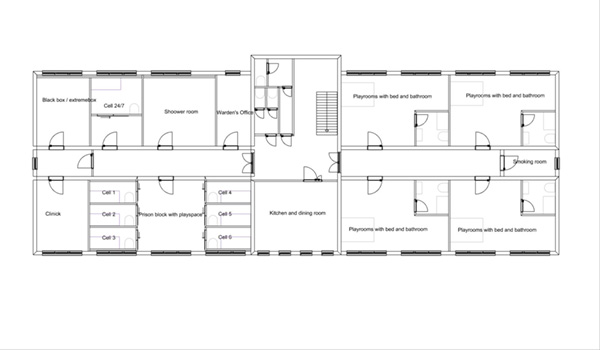 Rooms, playspace
Basic rooms
4 bedrooms, around 30 skm each plus bathroom . Each room is a differently designed, with a 'basic' gear .
four-poster bed

cage with padded bench on top
spanking bench
st andrews cross or similar, ceiling anchor, winches, bondage frame
some unique for each room decorations
closet, small fridge, electric water boiling pot
Prison block
8 prison cells equipped with bed, toilet and sink , double door - bars + solid doors . In center of prison block, 4 m x 4 m playspace.
Crude prison block with pits
2 prison cells with bars bucket and some hay grass as only equipment. Pit in the ground.
24/7 Cell
Specialy designed cell for long term stay. Bit more spacy then regular ones, equipped with bed, desc ,chair, toilet, sink and shower. Locked with heavy doors.
Shower room
Room with few sprinkles, attchment point for cuffs and chains, enema devices and of course everyones favourite - green garden hose.
Water tanks room
Space for water tanks, water boxes, dunking devices
Office / interogation room
Room with desc, chairs for prisoners intake, interogation roleplay
Clinick room
Clinic room with examination bench, gynochair and medical gear
Confiment room
Space with all kind boxes and cages including our famous Extremebox
Adjustable playspace room
2 big rooms, great for filming . Each room with unique decoration themes - crude red brick style, concrete style, factory equipment style. Rooms without standard equipment , each furniture can be brought on-demand from facility storage.
Vanilla room
Bedroom without any kinky equippment for visitor who don't want to stay in our kinky bedrooms.
Services provided
Facility can provide a wide range of services for our visitors. Some of them will be extra paid , some of them can be added as a bonus .
Renting room
Renting rooms is our main business. Renting similar to hotels night's pattern. Rent starts at 10:00 or 11:00, lasts up till 20:00, if it includes night stay and ends at 10:00 the following day. Visitors should get a starting pack , water, sparkling water, apple and orange juice , towels , bathrobes and toothbrush, tooth paste, disposable water cup.
Staff support
Our friendly staff should provide assitance for proffesional visitor mainly with organized event. Staff can take care of prisoner transfers, assisting during events as guards, preapering meals and feeding prisoners. All other ideas can be disccused.
Rent bdsm gear
Basiclcy all basic bondage gear will be provided for free. Some of the gear is rare and quite expensive and they cannot be provided as equipment for each basic room. This type of gear should be taken care of, checked by staff and provided for visitors on demand. Fees for using gear can be a bonus or small fee , just to cover staff time used.
Rent a photo, filming gear
Same as gear. It requires our staff handling and can be considered as a bonus or paid a small fee.
Mini shop with gear
We will provide our visitor with posibility of purchasing some gear. Mostly that should be personally owned like dildos, plugs.
Transfers
WPLD proved that transfer is an extremely needed service and needs to be provided by our staff. Fees should be flat fee for certain destinations like from / to Warsaw city center / old town, Chopin airport . Other destinations should be based on kilometer fees similar to taxi service.
Meals
Meals can be included in stay. Definitly visitors staying overnight will get breakfest. Bread, jam, cheese, cottage cheese and some meat. As we don't want to disrupt our guests we should also provide them with meals during the day lunch, dinner, supper . Meals can be bought ready-made from the stores or they can be made with little effort by the staff ex. chicken with rice and sauce from a jar, pancakes, pierogi, soupe, pizza , pasta, maybe goulash. Meals can also be vegeterian, vegan , adjusted to diabetes, allergies or other requirements.
Extra leisure services
Staying in WP 2.0 should be a memorable experience. We know that kinky play is main part that makes the whole experience. If the kinky part fails, because of bad mood, health issues, our staff will support our visitors in arranging other leisures like:
shooting range
Deepspot diving
tank driving
warsaw sightseeing
Suntago Water Park visit
Our staff can provide guidance, make arrangements, and help with the booking.
Session with Lady Daria and WP 2.0
Moving from old to place to WP 2.0 will take a lot effort and will consume a lot of time. Im suspending sessions for at least 3 months till new place will be ready plus some time for recovery and my holiday.
Sessions in new place for sure will be a bit diffrent and quite a lot changes will be made. For sure WP 2.0 staff will be involved in assiting me with meals, night time, morning and evening routine. Also many more other Mistresses will join and be involved during my sessions. You can think about session with Me more as one of many parts of your stay in WP 2.0 then just sessioning with Me.
Investment opportunity
Warsaw Prison 2.0 will be runned as shareholding company. Thanks to this you can buy our facility shares .
Who can buy shares ?
Anyone. There is no limitation if you are EU or non-EU citizen. You can buy them as private person or as company. You don't need account in Polish bank, dividends can be set to any account. To sell you shares we need some basic data like your name, surname, birthdate ,adress, number of id document .
So how to buy our shares? How many I can buy ?
Share issue is set for 470 000 pln, 470 shares, 1000 pln each ( around 210 euro ) . This shares are almost 100% of company registered capital.
You can buy any amount shares.
if you want buy shares, write us an email to office@warsawprison.com.
We will link you to form which you should fill. For sure you need to provide your real personal data as it is required by brokerage office
We will provide you with an agreement. Agreement will be concluded if you will sign it and pay for shares.
You will get confirmation from brokerage office and officaly become WP 2.0 shareholder

Dividend

Dividend comes from company profit. And the end of year, profit is calculated and amount to be paid as dividend approved during shareholders meeting ( held online ). Here is our yearly plan for dividend:

Year 2022 - around 50 000 pln - Dividend for owning one 1000 PLN share will be around 100 pln
Year 2023 and following - around 100 000 pln - Dividend for owning one 1000 PLN share will be around 200 pln
If company profit will be higher then planed, dividend will also be higher.

Being annoymus as shareholder

Fist of all shareholding register is kept by brokerage office , so first step for third party person is to know the name of brokerage. We don't mention name of brokerage in any public available documents. Second, register is not public. Only shareholders and company can view it.

Selling your shares

You can sell your shares to anyone. There is no limitations, but first you should ask other shareholders. If needed, we will place an advert on WP 2.0 website that there are shares that can be bought. Also the company can eventually redeem the shares.

Company of Warsaw Prison 2.0

Company is legal entity - simplified join stock company . Name of company 'Scenograficzna' reflects directly officiale purpose of company - renting space for movies, pictures, events, doing scenography and costumes. As company we don't care for who and what 'content' will be made and what 'events' will be held. Officaly , we JUST rent a space. Company will have offical website, which won't be linked to WP 2.0 website . Company will be managed by mostly by Me. Althouht I will have some help from:

Chogal - our studio webdeveloper, gearmaster - he made all the gear you can see. If you visited WP for sure you meet him as he is also our studio driver Chogal . Chogal will also be official chairman . His furniture making company Steel Alive will be responsible for constructions, finishing works and providing studio with gear and furnitures.
2-3 staff members - it will be their full part job to support Me, Chogal and our studio guests

Rent vs buy building

Having own building would be dream come true. But this kinkd of building if we want to buy is around 2 000 000 - 2 500 000 pln ( 440 000 - 540 000 eur ) . Companies in Poland can apply for this kind of mortage after at least 2 years of running business. Mortage intereset are almost same amount as rental fee. Basicly, it is too early to think about taking that huge risk.

Great dream

Expanding studio to next level was one of my biggest dreams. Current place in Lomianki was a great place to start but it already lacked space four years ago. Warsaw Prison 2.0 it complex project and it will take a lot of effort to make it work as intended , but Im sure that in end we will build a legenedary place compered to Studio Avalon in Berlin or OWK in Czech Republic.